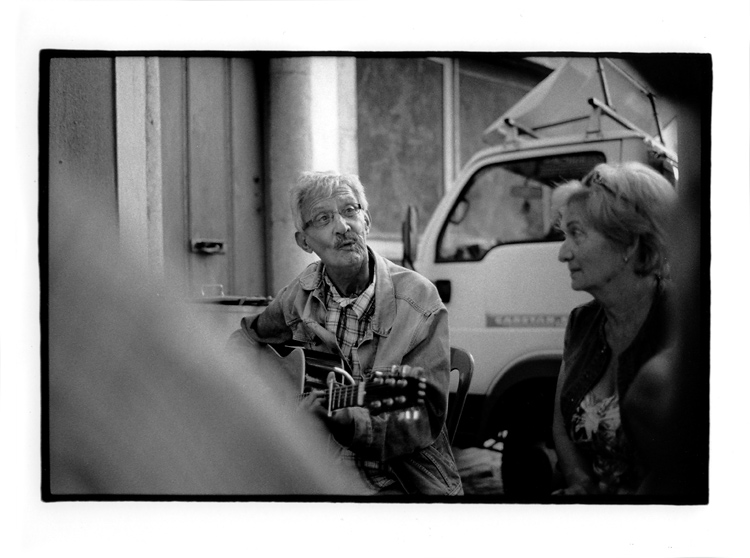 On a warm, long summer afternoon, by some twist of fate we have found ourselves at an annual neighbor fiesta in a small town near Lisbon. There was a long table, huge paella, heaps of tiny snails, local wine from a wooden cask. At some stage someone announced the local Fado musician, his name escaped me unfortunately. He pulled out a guitar and started slowly, tuning and trying, waiting for the chatter around to get quieter a little. His voice sounded, but it was harsh, matte. The throat cancer surgery a few years back left him with a part of his vocal cords removed and was able to sing again only recently. I listened mesmerized as his friends joined him one by one, song after song, improvising stories I could not understand, woven with music into something more saudade than any translation of this word can ever tell.
When they finished I approached him and thanked very much, from my very self, for what I have just experienced. Although I did not speak his language, he understood my words. He grabbed my arm strong; we stood in silence for long, slow seconds, looking at each other, with bitter sadness gathering inside as I realized someone told me earlier me his cancer has returned.
Pewnego ciepłego, długiego letniego popołudnia znaleźliśmy się jakimś zrządzeniem losu na corocznej sąsiedzkiej fieście w małym miasteczku pod Lizboną. Był długi stół, wielka paella, stosy małych ślimaków, lokalne wino z beczułki. W pewnym momencie ktoś zapowiedział lokalnego muzyka Fado, niestety nie wychwyciłem jego imienia. Wyciągnął gitarę i zaczął powoli, strojąc, w oczekiwaniu aż gwar dookoła nieco ucichnie. Jego głos zabrzmiał szorstko, matowo. Operacja raka krtani kilka lat wcześniej pozostawiła go bez części strun głosowych i mógł wrócić do śpiewania dopiero niedawno. Słuchałem urzeczony jak jeden po drugim dołączali do niego przyjaciele, pieśń po pieśni, improwizując historie których nie mogłem zrozumieć, wplecione z muzyką w coś co było bardziej saudade niż jakiekolwiek tłumaczenie tego słowa może oddać.
Gdy skończyli podszedłem i podziękowałem serdecznie, tak najbardziej od siebie, za to co doświadczyłem. Mimo że nie mówiłem jego językiem, zrozumiał mnie. Chwycił mocno za przedramię, staliśmy w milczeniu długie, wolne sekundy, patrząc na siebie, z poczuciem gorzkiego smutku zbierającym się w środku kiedy docierało do mnie to, co ktoś powiedział wcześniej, że rak powrócił.